Kawasaki UK and the Arenacross Tour have joined forces to create an inspiring, all-new Kawasaki Big Wheel KX85 race series for the 2019 Tour.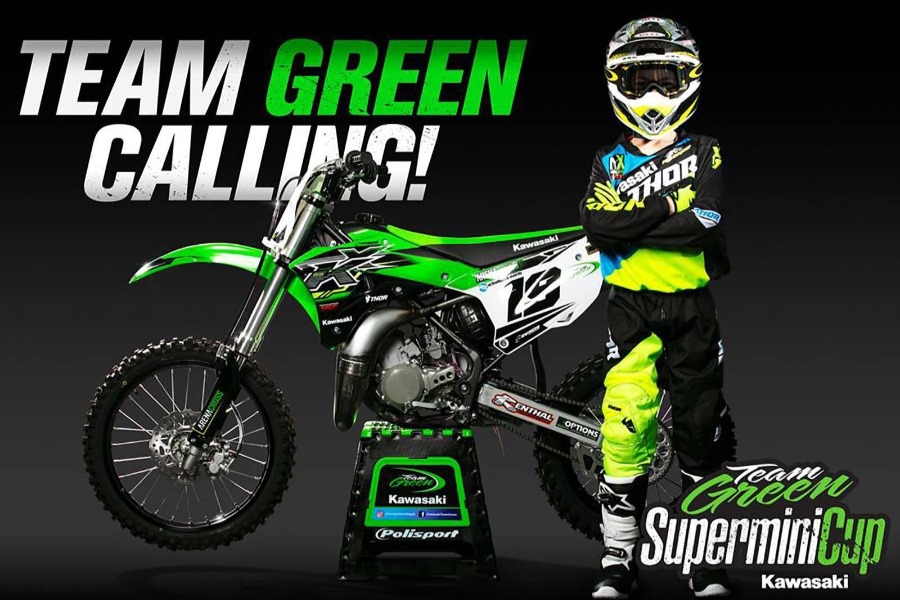 The Team Green Supermini Cup will cater for the best BW85cc riders in the land, with the leading 10-to-15-year-old racers from this category selected to participate in a UK motocross-first.
This unique initiative will present an incredible opportunity to twelve talented young riders whereby identical, race-ready machines will be taken to each round of the 2019 Arenacross race series at Belfast, Birmingham, and Sheffield.
The brand-new BWKX85 motorcycles will be professionally prepared and individually set up for each rider by Kawasaki Motors UK, with a Pro Circuit exhaust system, individually adjusted suspension settings and different handlebar bends. The beauty of the Team Green Supermini Cup is that the engine will be stock, thereby making it a level playing field and allowing the rider's race-craft and skill to shine through. Two sets of full THOR race kit will be supplied for each rider, together with a Bell helmet and a set of Alpinestar boots; these will be exclusive to each rider and can be kept at the end of the series.
At the Arena, the whole operation will be housed within and work out of a Factory-style team pit. There will also be a dedicated Team Green Supermini Cup co-ordinator and mechanic at each event. 
The only outlay to the rider will be the MCF licence, entry fees for each round, travel and accommodation. Other than that, each one of the privileged few simply need to attend the Arena and get ready to race. 
Reflecting on the new race programme, Senior Racing Co-ordinator for Kawasaki Motors UK, Ross Burridge said, "Having already been a part of the Arenacross Tour for a number of years, we're thrilled to extend our relationship with the series in this exciting new capacity. With our KX85, a big part of Team Green is nurturing youth talent and we think this Arenacross initiative is the perfect way to introduce young upcoming riders to our brand. I personally can't wait to see twelve KX85 motorcycles lined up next to each other when we open at Belfast in January – it's going to be a terrific spectacle." 
Matt Bates, CEO of Arena Sports Live shares Kawasaki UK's sentiments towards the series, saying, "Ever since we started Arenacross in 2013, it's always been about delivering ground-breaking new ideas. I can't thank Ross and the team at Kawasaki enough for supporting the idea of the Supermini Cup and making a dream come true for so many young riders." 
Riders interested in taking part in the Team Green Supermini Cup are invited to apply online via
www.arenacrossuk.com
The application process will open at 10am Thursday, the 1st of November, and close at 10am on Saturday the 10th of November 2018.
Once all applications are received, a panel of judges will consider the merits of each rider and select the ones lucky enough to get seeded through to the most comprehensive range of high-profile youth classes ever to grace UK motocross soil. 
Never before have youth riders been offered such extensive opportunities - remember, there's a very short window in which to apply online.